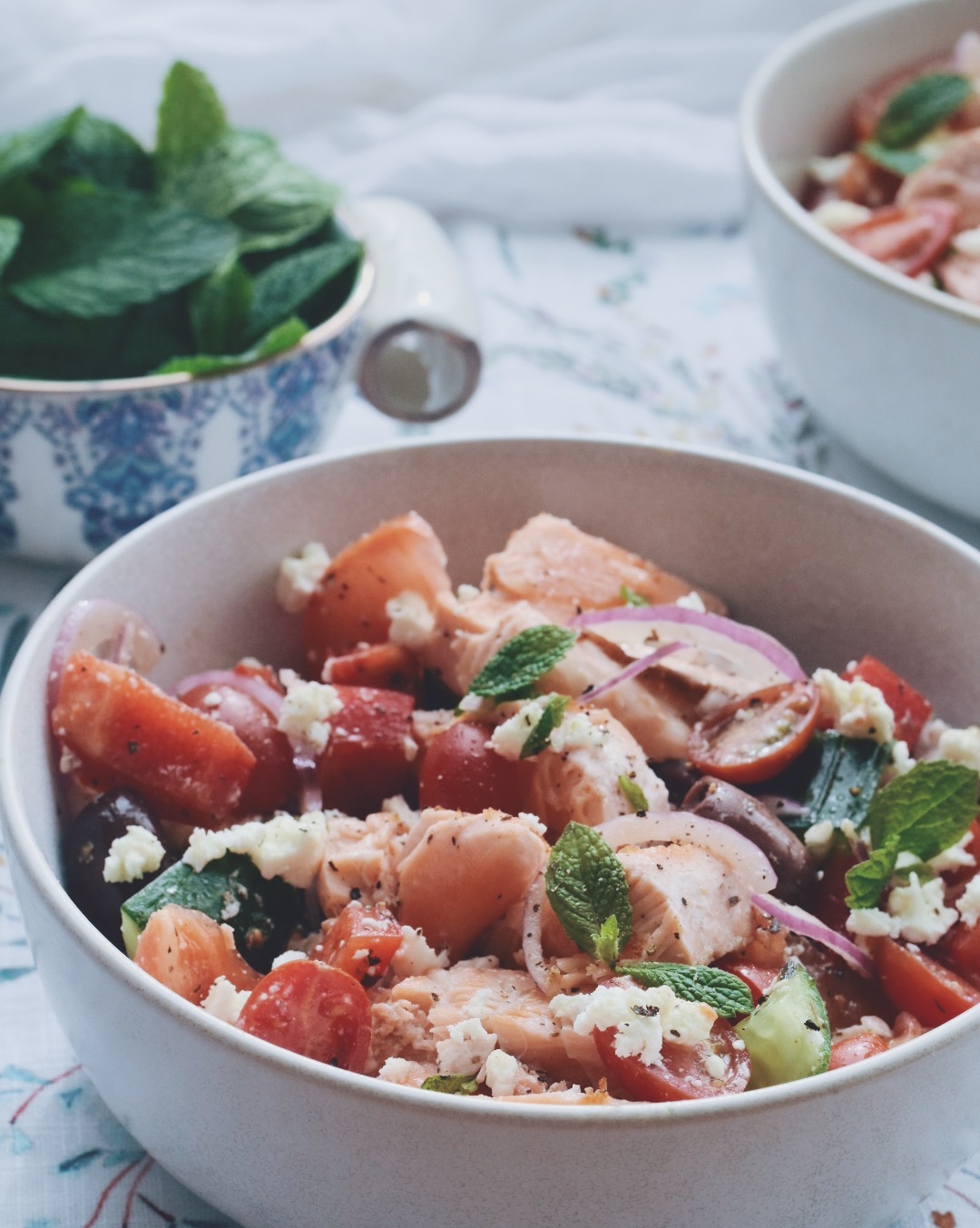 Greek Salad is synonymous
with spoonfuls of sun-kissed tomatoes, cucumbers, and riots of red onion and capsicum colour, all brimming with vitamins, phytochemicals and flavour to boot.
The salmon? Ah, it's a magic piece of the puzzle 🧩 It's rich in Omega-3 fatty acids which, along with helping us absorb the fat-soluble vitamins A, D, E and K, also help with the absorption of the phytochemicals to give them even more availability and potency. It's a win-win combo and a great comfort food, #nextbestthing when your Greece travel plans are on hold.
I would dearly love to claim Greek heritage, I'm such a massive fan of their cuisine.
The only feta in our house EVER is the Greek Dodoni brand, made from sheep and goat's milk.  I absolutely love that we can live Down Under here in Australia and still easily access their fabulous white tubs.
As for this feta crumbled over avocado? Well there's another reason I have to continuously restock our Dodoni. The teenagers and their friends have discovered how brilliantly they go together, and there's no holding them back now!
But I digress. This salad has plenty of charm and personality – like all the gorgeous Greeks I know! These friends all have in common the love of good food, celebrations, gatherings and community at their core. Exactly the tonic for our urban lifestyles.
They also have an enormous respect for their lineage and heritage, so it won't surprise me at all if a couple of them get in touch to point out that their great Yiayia would have made this salad with extra … and a little less ….
And if you have a serendipitous moment appear where a Greek friend adjusts this slightly, absolutely seize the moment and enjoy yet another take on a centuries old recipe. Opa!
Greek Salmon Salad
Serves 4
Ingredients
 Vinaigrette
1 ½  tablespoons lemon juice
3 tablespoons extra virgin olive oil
1 garlic clove, peeled and finely chopped
¼ teaspoon sea salt
1 teaspoon dried oregano
Salad
2 cups tomatoes, mix of cherry and roughly chopped ripe tomatoes
1 medium red onion, halved, peeled and very thinly sliced
one Lebanese cucumber, halved and roughly chopped
1 medium red capsicum/pepper, deseeded and roughly chopped
handful kalamata olives, pitted
a handful fresh mint leaves, chopped (reserve a few for garnish)
200g/7 ounces feta cheese
Salmon
2 tablespoons olive oil
4 salmon fillets
Sea salt and freshly ground black pepper
Method
In a small bowl, place the olive oil, lemon juice, garlic, oregano and salt and whisk together to make the dressing. Set aside.
Chop the cherry tomatoes in half and the tomatoes into wedges,
Add to a large bowl, along with the red onion, cucumber, capsicum and mint leaves.
Gather your olives in one hand and squeeze over the salad to release any juices, then release into the bowl.
Pour the vinaigrette over and toss to gently combine.
Using your hands, crumble the feta over the salad, then again gently toss.
Place a few large spoonfuls into salad bowls, ready for the salmon.
To prepare the salmon, using a paper towel pat the fillets dry and grind the salt and pepper over.
Heat a pan over medium high heat and, once hot, add the olive oil.
Skin side up, place the salmon into the pan and cook for 3 minutes.
Flip over onto the skin side and cook another 2-3 minutes, depending on how pink you like your salmon.
Remove from the pan and allow to rest for 5 minutes while slightly cooling.
Cut the salmon into large cubes or flaked pieces, and add on top of the salad
Garnish with extra mint leaves and an extra grind of black pepper and serve.
Tip:  Planning a few salads for entertaining? Instead of serving this in individual bowls, place on a large platter and serve with a complimentary rocket/arugula salad